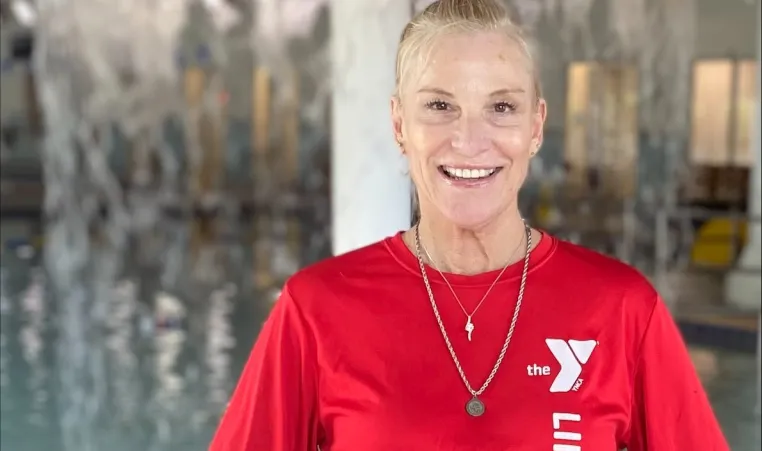 Head swim instructor with the DeVos-Blum Family YMCA finds the personalized approach she uses with her students is the same she's experienced as a longtime employee who has faced her own challenges.
Terri Baldwin's smiling face is a hallmark of the Aquatics Center at the Boynton YMCA. For nearly 15 years, she's been lifeguarding, leading water aerobics and, most of all, teaching people of all ages to swim. She gets to know the preschoolers at the Y when they come in for their weekly lessons and has taught plenty of other group classes. Her area of specialty—and favorite type of instruction—is the private lessons she conducts one-on-one.
"I like the individuality of working with one child or one adult," she says. "When I see the person I'm concentrating on succeed, it makes me feel so good as an instructor."
Baldwin says everyone's learning style is different and when she meets them for the first time, she tells them her goal—to get them swimming. What that looks like depends on the student. For some, it's slow and steady progress over a few months of weekly lessons. For others, it's a quick task.
"One of our members had a grandchild here from New York for two weeks and wanted them to learn to swim during that visit," she recalls. "We started with two lessons, then three and then they were swimming."
That's similar to how Baldwin started her career with the Y. Having put her professional life on hold, she stayed home with her son when he was young. When he started school, she decided to lean into an old love.
"I was on the high school swim team all four years and I love to swim," she says. "So, I got my certification to become a swim instructor through the Red Cross."
Once she started with the Y, she became a fixture, teaching lessons of all kinds, leading aquatic exercise classes and lifeguarding. All was going along swimmingly, she says, until she encountered a roadblock.
"I was diagnosed with cancer," says Baldwin who learned the esophagitis she'd experienced most of her adult life had become cancer in 2018. Treatment, which included chemotherapy and radiation, took its toll: Baldwin was unable to work. As a mom with an uncertain future, to say the situation was stressful would be an understatement.
"The YMCA support system was wonderful," Baldwin says. "They had fundraisers for me, and members were sending cards and checks. They kept me on staff and didn't give up on me."
Though she says it felt like special treatment, her supervisors assure that their care for Baldwin is a matter of course.
"We support every single person on our staff," says Julio Fuentes, Aquatics Director for the DeVos-Blum Family Y. "We understand that challenges happen for everyone, and we try to help one another."
Baldwin's health stabilized and soon she was back in the pool. "Everyone is always excited to swim with Ms. Terri," says Martha Cross, Aquatics Coordinator for the DeVos-Blum Family Y. "She brings such skill and technique and she's always upbeat. We just love her."
Things were good—for about a year until Baldwin's cancer not only returned but spread. New treatments were called on to manage her illness, and then COVID-19 closed the doors at the Y for months. When the pandemic eased, Baldwin slowly made her way back into the pool. Water aerobics are too demanding for her damaged lungs, but she's back to her private swim lessons, as well as lifeguarding and assisting in the office.
"Terri is our go-to," Fuentes says. "She's been here longer than any of us, so if we are thinking about a change, we always get her opinion. She won't let us waste our time. She also serves as liaison among our lifeguards and instructors. Our department is successful because of the communication we have with her."
Baldwin is currently working four days a week, taking time off when her body needs time to recover from her on-going treatments. She's thinking about picking up another day and doesn't see a time when she would want to do something else for a living.
"This job is the best thing for me," she says. "It's gratifying, it keeps me moving. Everyone is happy, so how can you stay in a bad mood? I always look forward to coming to work."